June 16, 2017
Top Mobile apps in Asia that Give Users Price Comparison of Flight Tickets
Competition is getting tighter in this space, with budget airlines joining the battle as well. So the apps need to shine and the prices have to be right. Let's take a look at five noteworthy flight booking mobile apps that you could find useful in Asia, all of which give people access to cheap fares: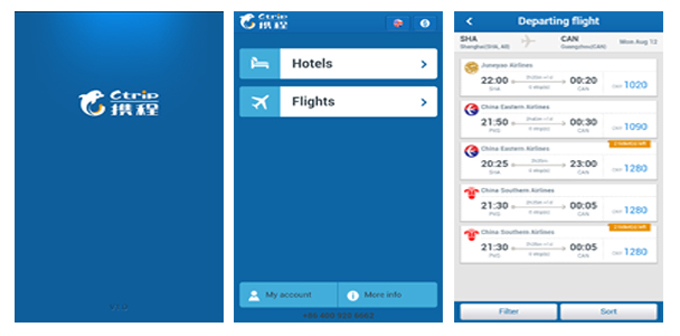 Ctrip is the leading player in China's online travel agency segment. In 2012 it released globally-oriented mobile apps for both iOS and Android (in addition to the Chinese apps it has had for ages). According to Ctrip's 2013 second quarter financial report, its mobile apps are now increasingly contributing to its revenue growth. 15 percent of its total air ticket bookings are now done through the mobile app.
Through the Ctrip's mobile app, users can book flights up to six months in advance. The app also shows if there are already limited tickets left for a specific flight. But only tickets for adults can be booked through the flight, and users still need to call the airline's hotline for bookings of tickets for children.
Ctrip can be used globally for domestic flights within mainland China and international flights out of China.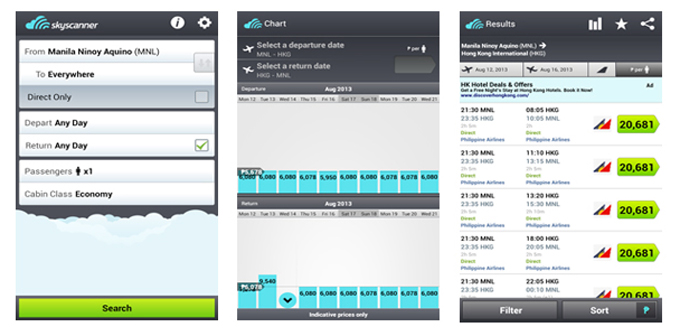 Scotland-based Skyscanner offers a similar flight search platform and launched its mobile app in 2011. Skyscanner has since reported 400 percent in mobile usage the the past year.
Its mobile app shows a graph-like results page detailing available dates and price ranges. From there, users can simply select their desired price points and available flights, which leads to different airlines showing up on-screen. It has filters where users can choose the preferred airline, opt for a flight with or without stops, designate a preferred duration of the flight, and the time of departure and arrival.
As of March, the app has already reached 20 million downloads globally, with Asian countries like Korea, Japan, and India making up large sections of its usage. We also noted last year that Skyscanner is also gaining momentum in China with its partnership with Baidu. UPDATE: Skyscanner is also visible in Asia with its APAC headquarters in Singapore, and office in Beijing.
Skyscanner dubs itself as "the everywhere search" as it provides all available flights globally.
Skyscanner is available for both iOS and Android.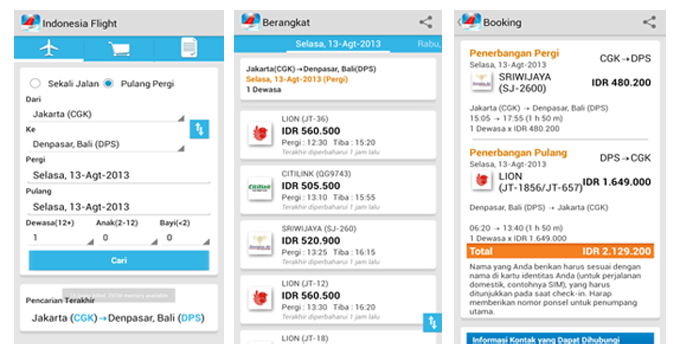 We recently reported how Indonesian startup Tiket is becoming one of the biggest players in the online travel industry in Asia. A year back, this same startup launched a separate mobile app for airline booking, called Indonesia Flight. The app, which is available for both iOS and Android, gives its users the option to choose among the available flights on Indonesia's five domestic airlines.
The app is pretty straightforward, and even allows users to directly pay the booking through the mobile app via online payment KlikBCA and bank transfers from Mandiri Bank and BCA. This isn't very useful to tourists visiting Indonesia, so if you're not Indonesian and you need a flight within or out of that country, you could turn to Skyscanner (above) or the two budget airlines below.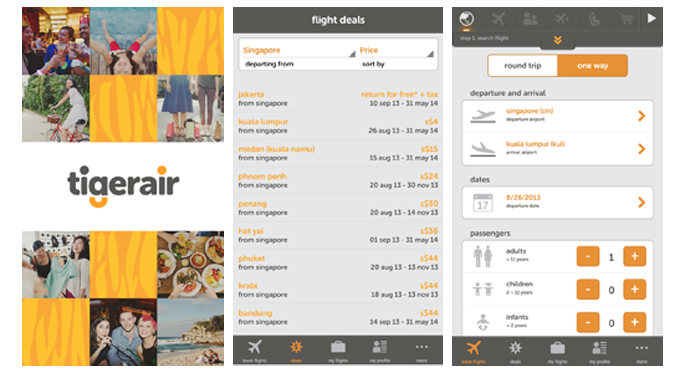 Singapore's TigerAir is one of the top budget airlines in Asia. Last year it launched its mobile app on iOS andAndroid, providing people with options to book flights within Asia through their smartphones. Apart from that, the TigerAir app has an option for users to check the latest promo fares it has across Asia. The app is easy to use and it personalizes the price depending on the currency of your point of departure. The fees are very transparent, too. The app shows additional fees for luggage and things like sporting equipment.
Just last month, the airline rebranded from 'Tiger Airways' to present itself as a bolder airline company. It also has plans to raise $236 million to fund its operations in Indonesia and the Philippines.
TigerAir offers flights across the Asian region.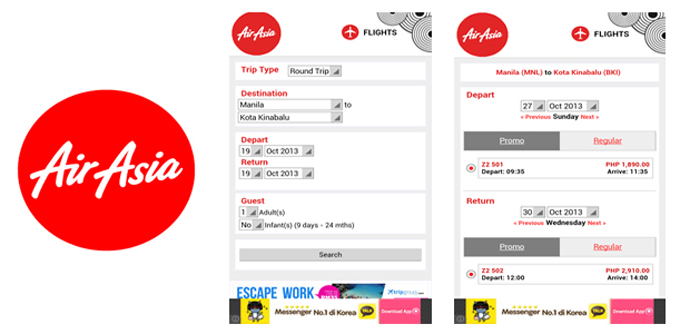 Also one of the leading budget airlines in Asia, Air Asia released its mobile app in 2011. But in July last year it faced some technical issues and the companywithdrew its mobile app. It was then relaunched in October 2012.
The new app has turned to bring about a more visually pleasing interface, but it removed some of its features such as 'flight status' and 'my bookings'. It still has some odd bugs, such as the drop down list of destinations not actually being in alphabetical format. Users will have to pick the country first before they can see the desired destination city. Apart from that, using the app is quite simple. Users will simply pick the place of origin, the destination, and the inclusive dates. It has other add-on features such as check-ins and on-board menus. The Air Asia app is available in both iOS and Android.